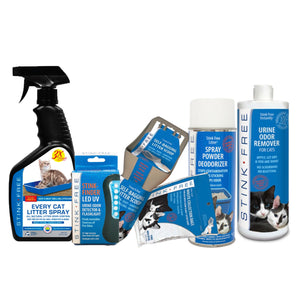 Regular price
$63.00
Sale price
$60.00
Guaranteed safe & secure checkout
Free Shipping Over $39!
This is the perfect combo pack for any cat owner. New or old. Remove odors & freshen up your living area with these products! 
Don't miss out on this limited time offer!
Every Cat Litter Spray- Instantly remove litter odor & save money by increasing the life of your litter!
Urine Odor Remover- Instantly remove urine odor with ease. Just apply, let dry & you're done. 
Stink-Finder Light- Locate invisible urine spots with this UV light, then deodorizer with Urine Odor Remover.
Litter Spray Deodorizer- Eliminate litter box odors with this. Spray your litter box to avoid odors & sticking. Spray on top of litter to trap in the smell. 
Litter Box Scoop & Odor Seal Bags- Easily scoop and discard feces. Scoop & bag all in one motion!
Similar products
Customers who viewed this item also viewed